July 1, 2013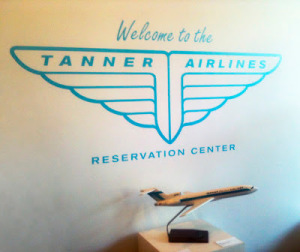 Eric Tan's solo FLY show at Gallery1988 features 15 witty limited edition silkscreened travel posters. Cohesive to the theme, Eric transformed the gallery into the 'Tanner Airlines Reservation Center', complete with Tanner Airlines model airplane (by Eric) and junior flyer wings. He approached me a couple months ago with his wings design to see if I could turn it into pins. Lucky for me, he already had the design, size, pin back style, and metal preference in mind (an ideal client!). I fabricated the prototype and, voila, we then reproduced a collection of Tanner Airlines Junior Flyer wings!!! He announced that the first 30 people to purchase prints at the opening would receive their wings. True to their name, Eric's prints and pins went flying out the door! It was such a fun project to work on and Eric is truly an amazing artist.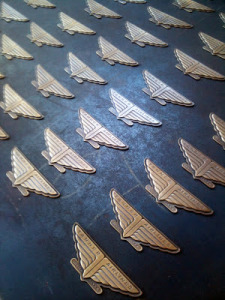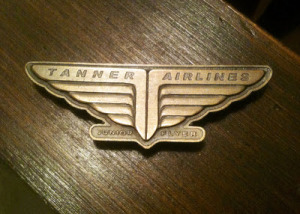 Wings are bronze with a magnetic pinback.
June 30, 2013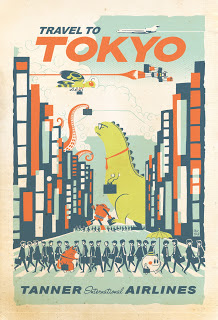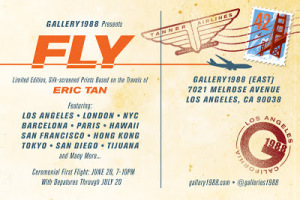 Last night was the opening reception for Eric Tan's solo show FLY at Gallery1988 on Melrose in Los Angeles. FLY showcases limited edition, silk screen prints based on the travels of Eric Tan, complete with model airplane and wings for Tanner Airlines. He is an incredibly impeccable artist who has the knack for combining style and sophistication with humor and wit. This is not an easy feat, as many creatives know, but Eric does it with seemingly effortless ease.
Below are some of my favorites. The show is up until July 20th so if you're local to LA then go check it out! Nothing beats seeing the prints in person, plus you can purchase one there. (There was a line of people waiting to get in!)